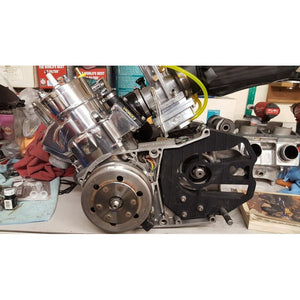 Yamaha Banshee 350 case saver V2 small sprocket
Regular price $75.00 Sale
DRW PERFORMANCE Case saver Fits - all years Yamaha Banshee Sprocket compatability - 12-15 tooth front sprocket.
Color - Black, white upon request (note: white requires up to 2 days processing time due to it being a non stocked item and will need to be cut to order basis)
Hardware - Stainless bolts and washers included
Material - UHMW Polyethylene
The DRW Performance case saver is a cut above the rest. With over 8 years of development and refinement to both fit, finish, and quality. With a proud track record of 1000+ in use today and 0 failures to date! No other case saver brand has a track record of zero failures or is willing to put their word on it. There is thousands of hours of design and prototype development in the design of these case savers. With the innovative design of our very own chain guide that completely eliminates the possibility of the chain wrapping around the sprocket, or coming into contact with the expensive cases or expensive electronic sensors. These case savers completely encapsulate the chain area without the possibility of the chain going anywhere other then it's normal chain path thus reducing the risk of any harsh impacts or doubling up all the while fully protecting everything in the area.
Each DRW part is machined in house with zero outsourcing and no middle man. When you ask us a question we can answer it with absolute confidence. Combo shipping and group orders available. Message us for more details or with any questions you may have, we will be glad to help. All products are made in the USA with USA materials, and to the highest quality we are capable of producing.