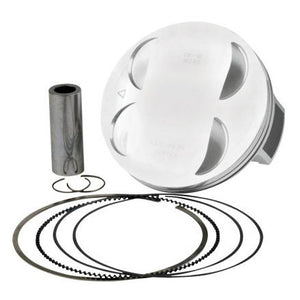 Vertex 4-Stroke Piston
Regular price $292.96 Sale
Stock Bore 10.2:1 Compression 
Vertex 4-Stroke Piston
Important note:
This piston is for a stock sized bore. Please measure your cylinder to check clearance before ordering.
Vertex Four-stroke Pistons
:
When it comes to power and performance, Vertex four-stroke pistons are hard to beat. Vertex pistons are perfectly suited to handle the rigors and high pressures of today's modern four-stroke engines. Plus, to aid in the break-in process and reduce wear, every Vertex piston utilizes a unique Molybdenum Disulphide (MOS2) coating on the piston skirt.
Heat-treated with a T-5 hardening and tempering cycle.
Piston skirts are coated with a high-tech Molybdenum Disulphite coating for faster break-in time and increased piston life.
Cast piston kits are gravity-cast aluminum alloy (not forged) with 18% silicone content, which produces an extremely light but very strong piston.
Forged pistons are forged from 2618 aluminum for superior strength and durability.
Forged High Compression pistons improve power and torque across entire RPM range.
Forged Replica pistons are forged O.E. replacements.
Replica pistons and all rings are O.E.M. replacements.
Kits include piston, rings, wrist pin and circlips.
Detailed Specifications:
Compression ratio (x:y): 11:1.
Cylinder diameter (mm): 89.00.
Displacement (cc): 450.00.
Piston diameter (mm): 88.95.