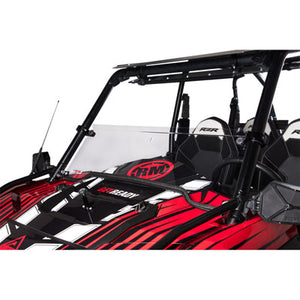 TUSK UTV HARD COATED HINGED WINDSHIELD +2-INCH
Regular price $179.95 Sale
Tusk UTV Hard Coated Hinged Windshield +2-inch
Fits: 2012 POLARIS RANGER RZR XP 4 900
Part# 1808810005
Tusk UTV Hard Coated Hinged Windshield +2 Inch
Details
The Tusk Scratch Resistant UTV windshield is a perfect addition to your side-by-side. This folding hard coated UTV windshield gives you the best of both worlds. You can have the hinged windshield in the up position to keep most of the wind and elements away, or put the UTV windshield down for complete unrestricted vision and maximum airflow. When looking for value in UTV parts, think of Tusk for all of your side-by-side parts.
Hinged or pivoting design.
2 inches taller than standard half windshield.
Lays nearly flat on hood in "down" position.
Durable aluminum hardware.
Made from Hard Coated Scratch Resistant Polycarbonate.