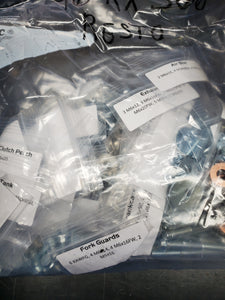 Restoration Fastener Kit (OEM ZINC)
Regular price $199.99 Sale
These bolts are forged from High Carbon steel, they are class 10.9 Hardened Zinc Plated bolts. 
These kits are built to be as complete as possible. These kits will not cover rear suspension bolts, shock bolts, axles, motor mount bolts and for ATVs no A-arm or front shock bolts. If you have any special requests or aftermarket parts that may requires special sizing please let us know in your order notes.
These are very extensive kits but yet the lead time is only 1-3 days.
After all the sizes are looked up for your specific vehicle, your kit is hand picked by one of our experts and labeled for easy installation.
Every kit is custom built and we will do our best to get you as close to everything that you will need for your project bike or ATV as possible
Send us an email with the form below if you would like to ask about a specific project you have.