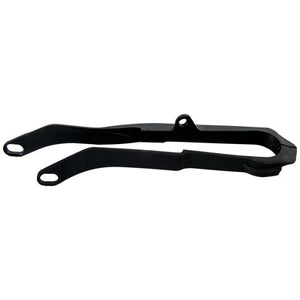 POLISPORT CHAIN SLIDER 2004 HONDA CRF450R
Regular price $15.99 Sale
Is your chain slider worn out, and it's time for another one? The Polisport Chain Slider is a great, economical option that gets the job done and lasts long. Polisport's focus with the chain slider is to provide an excellent product at an exceptional value, and it doesn't take long to realize they succeeded once you install it.
The Polisport Chain Slider is constructed using thermoplastic polyurethane, allowing it to withstand the friction it receives from the chain. It's not too rigid and not too flexible. Polisport is able to produce an exact replica of the OEM slider at a lower cost. However, this doesn't mean that the quality or strength is any lower, as the chain sliders are durable and long lasting.
The Polisport Chain Slider is an excellent aftermarket replacement for any old and worn slider. If you're looking for something available at an affordable price that doesn't sacrifice on quality, durability or fitment, then Polisport is the solution for you!
Specs:
Injection-molded polyurethane
TPU (thermoplastic polyurethane)
Tougher than stock sliders
Printed plastic bag packaging