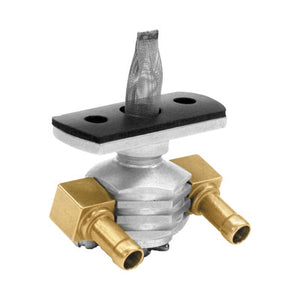 Pingel Power-Flo Dual Outlet Race Valve Petcock
Regular price $163.44 Sale
This will eliminate the split between the two carbs and allow you to feed each carb individually.
This valve does not have a reserve, has On/Off only.
Provide maximum fuel for combustion – test results have proven as much as twice the fuel flow over stock petcocks.
Won't restrict fuel flow to the carbs.
Keep the carburetor full of fuel at all times.
Ensure consistent fuel mixture under all conditions.
Machined from lightweight billet aluminum; not a cast piece like the OEM petcock.
Lighter than the stock petcock.
Use stock mounting holes and hardware.
Dual Outlet On/Off Only Hex Finned Valve-1/4" NPT-90° 5/16" hose barbs-with adapter-Aluminum
3110-D-AH61A Hex Fuel Valve with dual 5/16" hose barb outlets designed for the Yamaha YFZ350 Banshee 1987-2005, and YMF660R Raptor 2001-2005 models. Adapter plate included. This valve does not have a reserve. Matte gray finish.