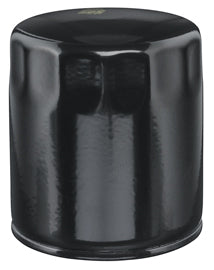 EaOM135 Black
Motorcycle and powersports enthusiasts want their equipment to run at peak performance and deliver years of satisfaction. Many have invested thousands of dollars and untold hours into acquiring and taking care of their machines. Dirt and other particles, however, can infiltrate the engine and cause wear. Over time, the engine can become less efficient, lose power and fail to deliver the "like-new" feeling enthusiasts desire when riding. AMSOIL Ea® Motorcycle Oil Filters (EaOM) incorporate the same synthetic media found in AMSOIL Ea Oil Filters (EaO/Ea15K) for auto/light-truck filters. Their excellent filtering efficiency maximizes wear protection, helping equipment run at peak efficiency and last longer.
Guard

 

against engine wear
Help

 

extend engine life
Help

 

improve performance
Fluted

 

for easy removal
Maximum Protection Against Wear
The unique construction and full-synthetic media of Ea Motorcycle Oil Filters allow them to provide excellent performance in motorcycles and other powersports equipment. They are designed to last longer, remove smaller particles and offer less restriction than other filters. Ea Motorcycle Oil Filters provide filtering efficiency of 98.7 percent at 20 microns, delivering outstanding protection for motorcycles and other equipment.
Durable Construction
Ea Motorcycle Oil Filters feature a specially constructed silicone anti-drainback valve (where applicable) and a nitrile sealing gasket to go along with full-synthetic media. The anti-drainback valve provides excellent protection during startup and remains flexible in all temperatures. The nitrile sealing gasket resists chemical breakdown, providing excellent durability and ensuring long filter life. Ea Motorcycle Oil Filters are fluted for easy removal and are available in chrome.
Multiple Applications
Ea Motorcycle Oil Filters provide outstanding protection for motorcycles, ATVs, UTVs, four-stroke personal watercraft, four-stroke snowmobiles and four-stroke outboards. AMSOIL provides Ea Motorcycle Oil Filters for the most popular powersports applications.
Ea Motorcycle Oil Filter Service Life
For maximum engine protection, AMSOIL recommends changing Ea Motorcycle Oil Filters at every oil change.